4 Day Namib Coast & Sossusvlei Adventure Tour
The 3 night/4 day Namib Coast & Sossusvlei Adventure Tour takes you on a fascinating journey through vast windswept arid plains flanked by majestic red dunes and rugged desert mountains.
4 Day Etosha & Namib Coast Adventure Tour
Namibia is a country of extreme contrasts and it's breathtaking beauty, abstract natural wonders and warm-hearted people make this a tour to remember forever.
Introduction – 4-day Namibia Safaris
Tourists always receive a warm welcome in the lovely country of Namibia.
You'll find something to adore in this African jewel, whether you're looking for the experience of a lifetime or just want to have an experience that's fascinating and unusual.
Namibia is a beautiful and diverse country to visit, with deserts, mountains, coastal plains, and wilderness areas among its many beautiful views.
If you only have time for a four-day safari in Namibia, you will still be able to see wild creatures in Etosha National Park or experience the pure beauty of the Sossusvlei sand dunes, and other places of interest along the way. Don't forget that Namibia derived its name from the famous 55 million year old Namib Desert, of the largest deserts in the world.
Because Namibia is so big, you can't see all of the beautiful wildlife, different landscapes, and rich culture of Namibia in just four days. It would take a lot more time to see everything it has to offer.
But, if you only have time for a four-day trip, it's best to focus on one or two places and try to see as much as you can in that areas.
What to Expect from a 4-day Safari in Namibia
If you just have four days available for a safari in Namibia, you can expect to visit one or two of the following attractions, with a tight itinerary that combines two or more:
1. Etosha National Park
As one of Africa's most celebrated safari destinations the combination of hallucinatory salt pans and large wildlife populations (including lions, elephants and plains animals in abundance) give Etosha distinction found in few other places in the world.
2. Waterberg Plateau Park
The Waterberg is a characteristic table-like mountain about 230 km north of Windhoek and 50 km east of Otjiwarongo, surrounding by a conservancy with several animal, bird, and reptile species.
There are many private game farms and lodges in the area, as well as the Cheetah Conservation Fund (CCF), which helps protect cheetahs.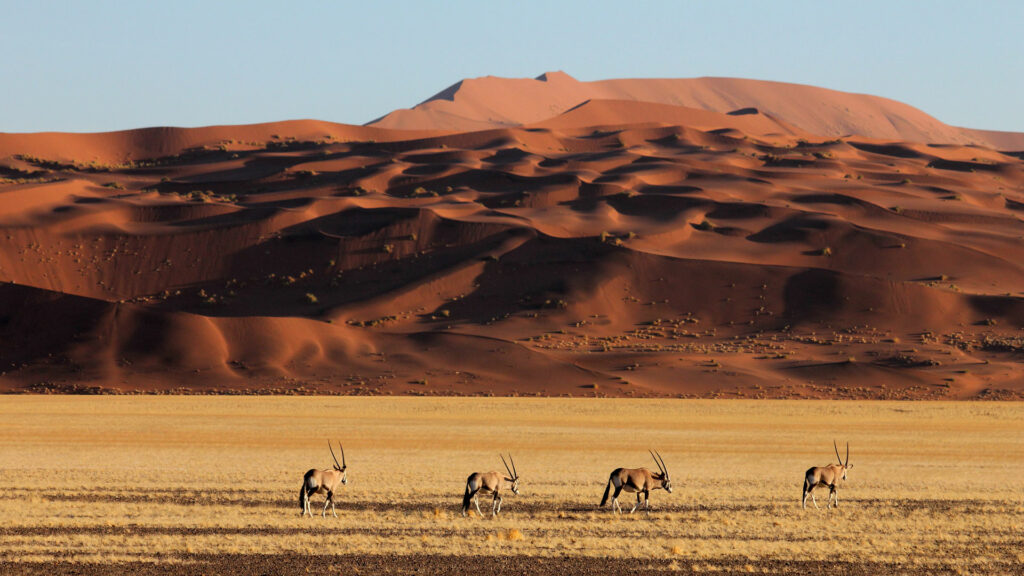 3. Damaraland and Kaokoland
Thea areas of Damaraland and Kaokoland in northwest Namibia are famous for its rocky mountainous land and dry savannahs, ancient sites with rock art, as well as its wide range of wildlife including desert-adapted elephants and lions.
Its small population of Himba and Herero people live in small villages on the area's rocky hills and valleys. They survive on a mix of pastoralism and subsistence farming.
The scenery is the primary draw here, rather than the animals.
4. The Skeleton Coast and Dorob National Park
Where shipwrecks and legends of sailors wandering into the desert in quest of food and water are connected with the Namibian Skeleton Coast, the Dorob National Park is a protected area in Erongo, along the central Namibian coast, with holiday towns Henties Bay, Swakopmund and Walvis Bay.
5. Namib-Naukluft Park
Namib-Naukluft National Park in south-western Namibia lies between the Atlantic shoreline and houses some of the famous large dunes of the Namib Desert. It is Namibia's most versatile conservation area and one of the country's major tourist destinations with world famous Deadvlei, Sossusvlei and Moon Landscapes. 
Best Time to Go on a 4-day Safari in Namibia
Between April and October is usually the best time to visit Namibia, as this is when the weather is the best all over the country.
This is also the best time to see wildlife, since many animals move to the area at this time and the skies are usually clear.
It can get very hot in Namibia in the summer, so it's best to avoid travelling there during this time.
Two Typical Itineraries of the Best 4-day / 3-Night Namibia Safari Packages
Itinerary 1 –Namib-Naukluft Park, the Skeleton Coast and Dorob National Park  
Day 1 – Get picked up from your accommodation in Windhoek and travel to Sesriem for the journey of about 320 km. The travelling time will be about 5 hours.

Stop at Solitaire for some refreshments, like the restaurant's famous apple pie.
Travel through the Kuiseb Pass, arrive at you accommodation in Sesriem and check in.
Visit Tsauchab Canyon near Sesriem and overnight in a lodge or camp at Sesriem.

Day 2 – Weather permitting, you may wake up very early to be in time for a hot air balloon ride over the Namib Desert, that starts before the sun rise. Once on Mother Earth again, you will be treated on a breakfast with sparkling wine.

Alternately, you can enjoy breakfast at your lodge and check out.
Travel the 63 km to Sossusvlei, climb Dune 45 on your way there.
After exploring Sossusvlei, walk to the Deadvlei and experience the wonder of the vast clay pan with skeletons of trees that are several hundreds of years old.
You may be treated on a bush lunch before traveling to Walvis Bay and overnight there.
Day 3 – Watch the flamingos and pelicans from the promenade or depart on a dolphin cruise to Pelican Point.
Travel to Swakopmund where you can go on a camel ride or quad bike excursion into the desert with Desert Explorers
Explore the historical architecture of the town, visit the Mole and walk on the world-famous jetty and visit the National Marine Aquarium.

Day 4 – Further explore Swakopmund before departing to Windhoek.

You may do a quick detour to see the famous Spitzkoppen from nearby.
Travel through the towns of Usakos, Karibib and Okahandja, with a half-way stop at the well-known Oasis Food Stall near Usakos for a bathroom break and snacks.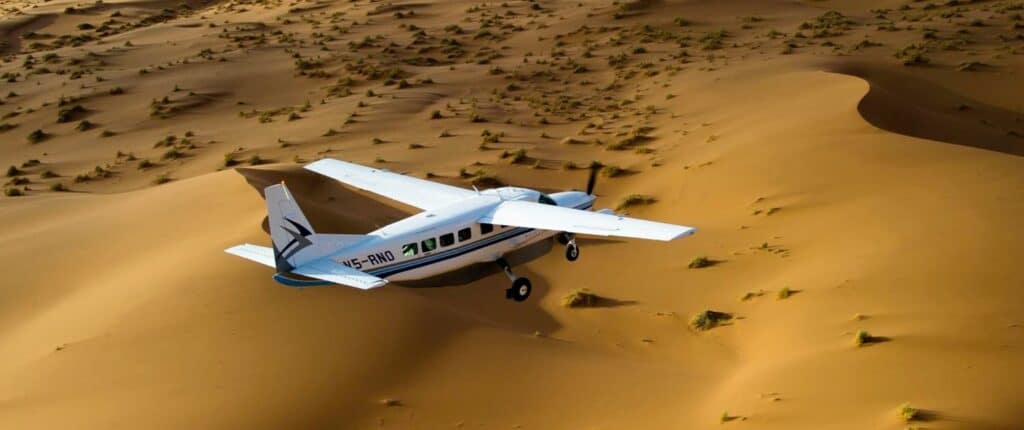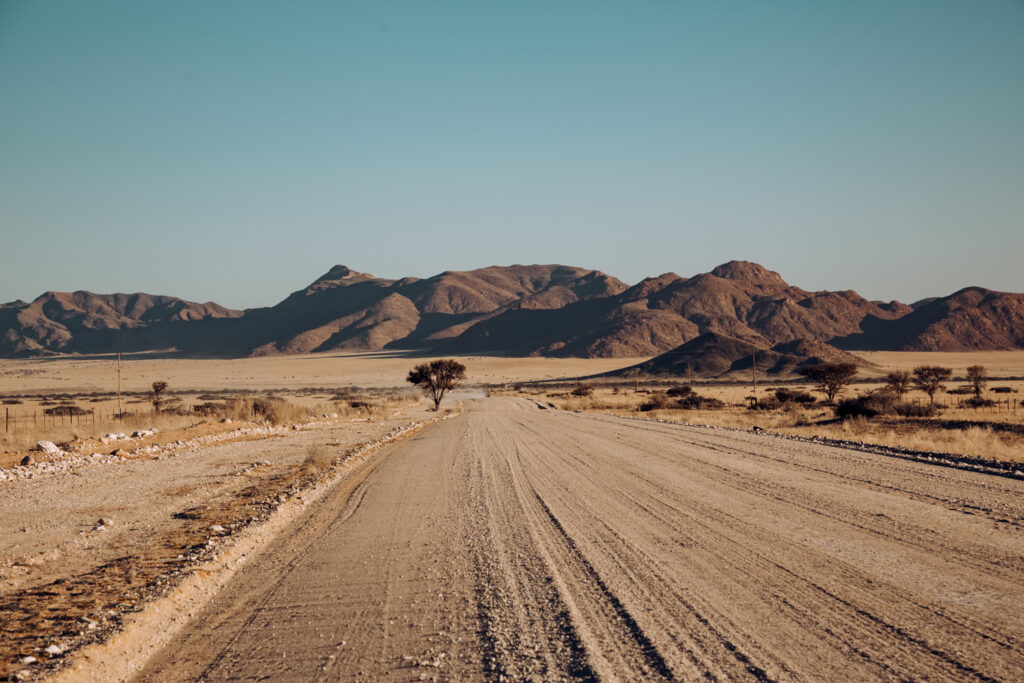 Luxury vs Budget 4-day Safaris in Namibia
On a Luxury 4-day Safari in Namibia, you will stay at a luxury lodge.
The accommodation will be of the best quality, with all possible comforts. You'll eat gourmet food and be spoiled in many ways.
On a 4-day budget safari in Namibia, you will still stay in accommodation with en suite bathrooms but may have to go without some other luxuries.
Itinerary 2 – Waterberg Plateau Park Etosha National Park, and Damaraland
Day 1 – Rise early and travel from Windhoek via Otjiwarongo and Outjo to Etosha, a stretch of about 450 km.

On your way, visit the Waterberg Plateau Park near Otjiwarongo. Apart from the beautiful scenery, The Waterberg is a historic site where the Battle of Waterberg took place in 1904, and more than 40,000 Herero died.
You should reach the Okaukuejo Rest Camp in the late afternoon, with enough time for some game viewing before dinner.
Visit the well-known waterhole at the camp for some exciting night-time sightings under floodlights before going to bed.

Day 2 – Travel from Okaukuejo to Namutoni Rest Camp and back, famous for the old German Fort which forms part of the camp. The route goes all along the edge of the pan, with exciting game viewing possible.

Overnight at Okaukuejo again.

Day 3 – Travel from Etosha via Outjo to Damaraland, one of the most beautiful and least explored parts of Namibia. It is well-known for its beautiful landscapes and ancient rock art places that date back thousands of years.
Day 4 – Travel back to Windhoek via the scenic towns of Omaruru, Karibib, and Okahandja.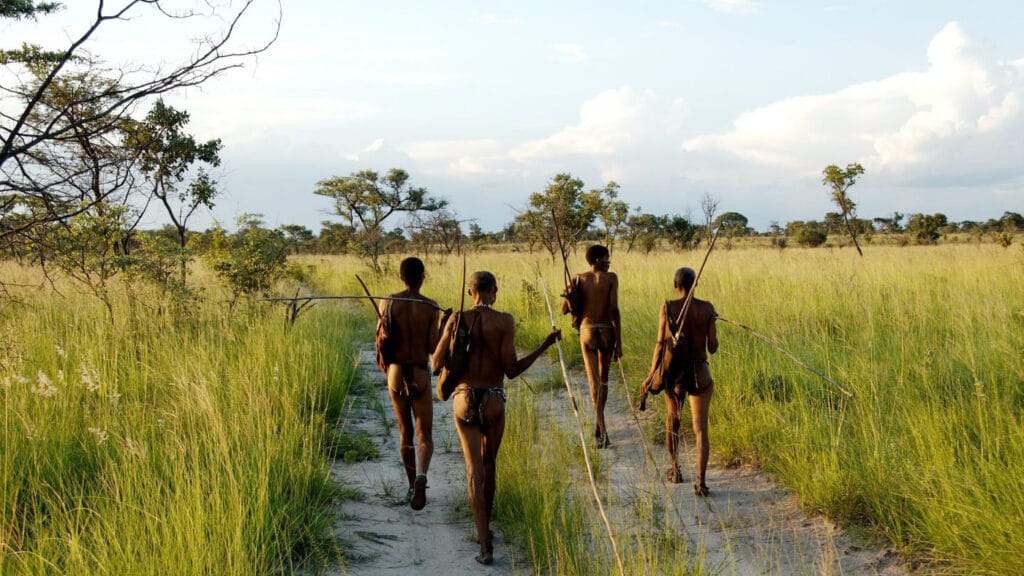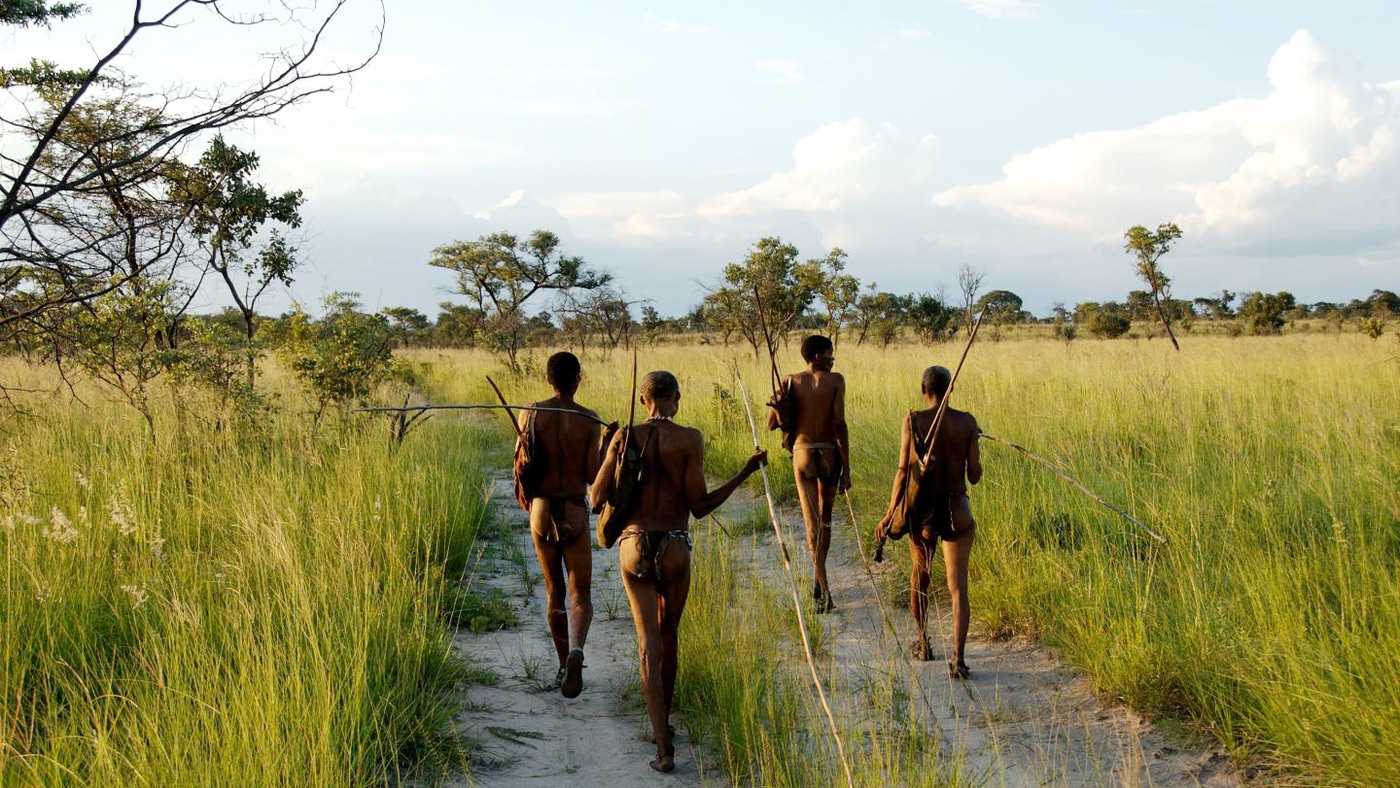 What Should I Pack for a 4-day Safari in Namibia
For a 4-day safari you should pack the following:
Clothing for the reigning weather conditions and walking shoes.
A lightweight jacket, hat and sunglasses.
Sunscreen and bug repellent.
Binoculars and camera.
Tips for Going on a 4-day Safari in Namibia
Bring good binoculars, sturdy shoes, and a good camera so you can fully enjoy the beauty of Namibia's scenery and wildlife.
2.Make sure you plan your safari well, because Namibia is a big, lightly populated country with a lot of things to see that you shouldn't miss.
Make sure to bring a lot of water and snacks, as there may not be many places to get them in remote areas.
Selecting a Tour Operator for a 4-day Safari in Namibia
If you want to go on a safari in Namibia, the first thing you should do is find a good tour operator and discuss your plans thoroughly.
Make sure you know what you want to get out of your trip. Is it the animals or the scenery that you want to see the most and how many hours a day, on average, you are willing to spend in a vehicle.
Frequently Asked Questions
What will I be able to visit during a 4-day safari in Namibia?
During a 4-day safari in Namibia you can visit at least two or three of Namibia's famous attractions.
What must-see wildlife viewing locations in Namibia will I be able to visit on a 4-day safari?
On a 4-day safari in Namibia you will be able to visit the country's famous Etosha National Park,.
What kind of accommodations can I expect while on a 4-day safari in Namibia?
You can expect accommodation options that range from basic camping to opulent safari lodges.
How long does it take to travel between destinations in Namibia?
It can take from a few hours to a whole day to travel between the popular tourism destinations in Namibia.
Is a 4-day safari in Namibia feasible?
Yes, a 4-day safari in Namibia is feasible but more days are recommended. Due to vast distances, you should ideally spend at least 7 days to explore most of the tourist attractions.