3 Day Madikwe Hills Game Lodge Safari
Discover why Madikwe Game Reserve has become one of the most sought-after safari destinations for the discerning wildlife traveller.
3 Day Jaci's Safari Lodge
aci's Lodges is a well-known safari operation in Madikwe Game Reserve that's renowned for its treehouse glamping experience and vibrant off-the-wall décor.
3 Day Buffalo Ridge Safari Lodge
Buffalo Ridge Safari Lodge is an intimate bushveld retreat offering guests an exclusive Big 5 safari experience in a malaria-free region.
3 Day Madikwe Bush House Safari
Madikwe Bush House is a sprawling old farmhouse that has been lovingly transformed into a luxury safari lodge.
Overview and brief history
Madikwe Game Reserve is South Africa's fifth largest game reserve, bordering Botswana and not far from the Kalahari Desert. This lesser-known park is actually one of the best protected areas in Africa, with a Big Five safari experience spread across 750 square kilometres.
The Madikwe Game Reserve is conveniently positioned between Johannesburg and Pretoria, and may be accessed by road in about 4.5 hours. It is also close to Botswana's capital city of Gaborone.
Because of the variety of landscapes and the great number of animals that dwell there, the Madikwe Game Reserve is an excellent area to go on safari. The park is ideal for both first-time visitors to South Africa as well as seasoned visitors. Because of the reserve's immensity, visitors will always have a new backdrop against which to see wildlife and take great images with their cameras.
The well-known Mafikeng road runs through the reserve. This trail was already recognized as a key historical link prior to the formation of the reserve. Its path has been travelled by traders, hunters, missionaries, and adventurers. Matabele King Mzilikazi travelled through the Madikwe region several years ago on his route to expand his realm.
The land that is now the Madikwe Game Reserve was originally utilized for agriculture, including cattle ranching and crop cultivation of cereals and vegetables. The indigenous farming culture was generally unsuccessful due to inefficient farming practices and inadequate land management. When the vegetation deteriorated to the point where it could no longer be used, there was talk of transferring ownership of the property to less fortunate and younger livestock producers.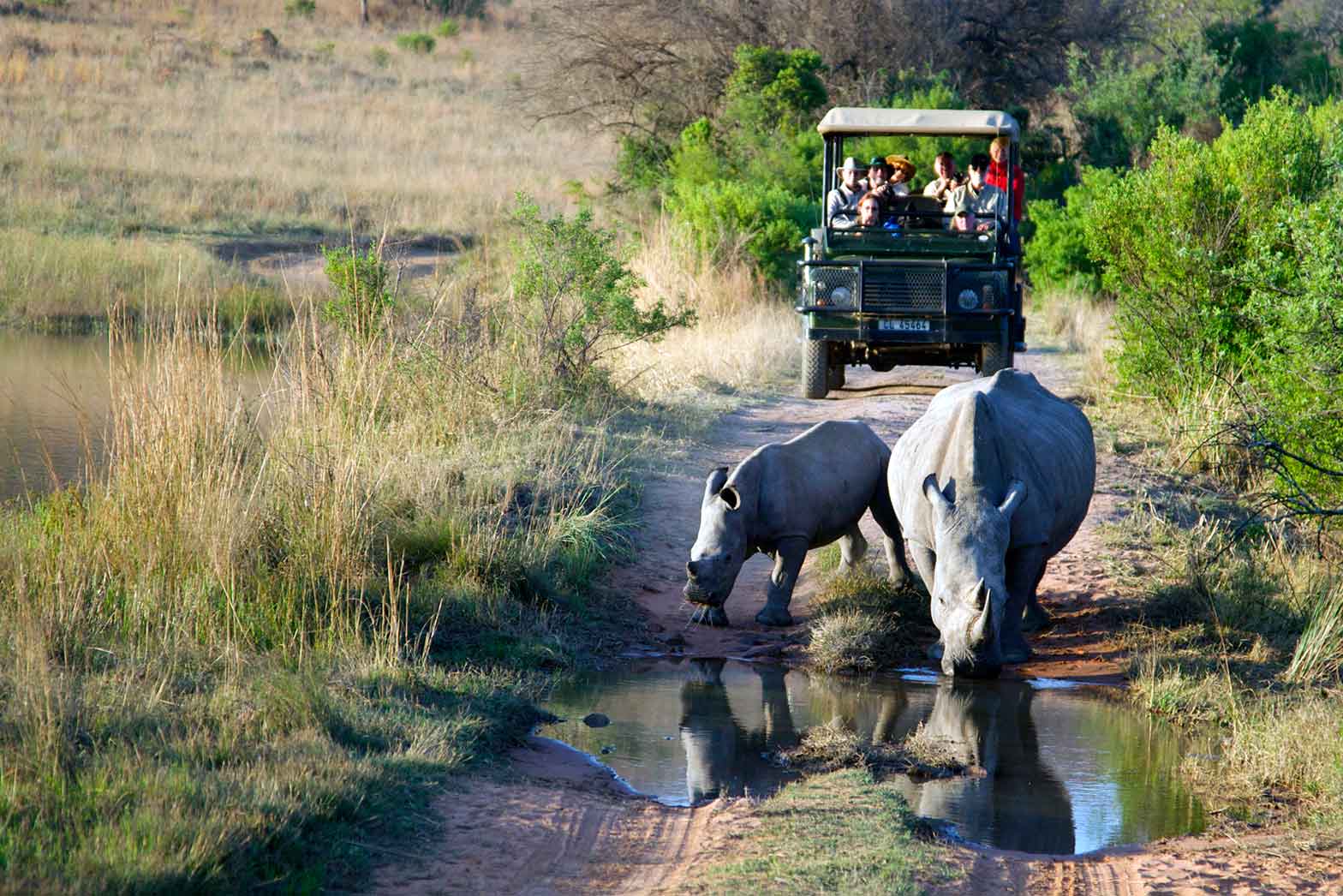 The reserve was made public in 1991, and it was placed in the Board's estate on October 31, of the same year. A feasibility study had previously showed that wildlife-based tourism was the greatest option for the remote and economically devastated area that needed to be regenerated. It is one of the world's few game reserves that was established on the basis that it was the most environmentally benign and appropriate use of the land.
Notwithstanding the environmental devastation caused by hunting and farming in the Madikwe region, Project Phoenix has resulted in the return of species that had been absent for more than a century. As a result, there is a wide variety of species, ranging from insects to mammals. There are around 340 different bird species.
Madikwe Game Reserve's vast grasslands are interspersed with trees and pastures. The reserve's western boundary is formed by the Dwarsberg Mountains to the south, and it is divided in half by the rugged Rant van Tweedepoort. To keep the larger animals within the reserve, an electric fence was installed across its whole 150-kilometer perimeter.
In terms of fauna and flora in the area, Madikwe's complicated soils and rocks are the product of millions of years of erosion on the underlying geological formations. The temperature, which varies greatly from one portion of the reserve to the next, is another factor in influencing the type of vegetation found in each location inside Madikwe. Madikwe's vegetation is patchy as a result of the many veld management practices utilized by the farms that originally occupied the area now known as the Madikwe Game Reserve.
Since it contains such a wide diversity of ecosystems, Madikwe Game Reserve is home to a large number of animal species from all over the world. The reserve encompasses a variety of landscapes, including mountainous areas, a plateau, rocky hills, a river that flows year-round, seasonal wetlands, bushveld, savannah, and an extensive selection of sand and clay settings.
The Madikwe Game Reserve is home to 66 different kinds of mammalian species, including the "Big 5" (elephant, rhinoceros, buffalo, lion, and leopard), among others. When you take all of this into consideration, along with the presence of giraffes, hippos, cheetahs, wild dogs, and hyenas, you can be certain that your safari adventure will be one to remember.
Individuals, couples, and families traveling with children have a wide selection of accommodations to choose from, some of which are opulent or even ultra-luxurious. It is ideal for either the start or finish of a South African vacation, or for a tour that includes both South Africa and Botswana. Another advantage of visiting this reserve is the absence of malaria which is a huge advantage when compared to other popular game reserves situated in the Limpopo and Mpumalanga provinces.
Because day visitors are not permitted into the park, Madikwe Game Reserve is a particularly exclusive safari location. As a result, during game drive hours, the number of vehicles in the park is limited to those belonging to the park's lodges.
Madikwe Game Reserve is your location for the ultimate safari adventure experience, offering everything from bushveld luxury to African splendour, family getaways to romantic hideaways.
Mix unparalleled wildlife watching with amazing accommodation options. Madikwe Game Reserve is made up of 4 and 5-star luxury and very comfortable lodges and camps.
Day visitors are not able to access the Madikwe Game Reserve unless they have made a reservation at one of the lodges located within the park. As a result, the reserve is a one-of-a-kind safari location with no traffic or outside people.
The reserve has a number of lodges and campgrounds that are best suited to the type of experience you want to have during your visit. Family safari resorts, conferencing, romantic holidays, safari and spa treatments, and special eco experiences are among them.
The following accommodation is available at Madikwe Game Reserve:
Eco Bush camp
Mosetlha Bush camp and Eco Lodge

Luxury Lodges
Buffalo Ridge Safari Lodge
Impodimo Game Lodge
Jaci's Lodges
Tau Game Lodge
Thakakdu River Camp
The Bush House
Madikwe River Lodge
Rhulani Safari Lodge
Rock Fig Lodge
Motswiri Private Safari Lodge
Tuningi safari Lodge

Ultra Luxury Lodges
Etali Safari Lodge
Jamala Madikwe
Morukuru Family Madikwe
Madikwe Hills Private Game Lodge
Madikwe Safari Lodge
Mateya Safari Lodge
Molori Safari Lodge

Jaci's Lodges, Madikwe Hills Private Game Lodge, Madikwe Safari Lodge, Morukuru Family Madikwe, Impodimo Game Lodge, Madikwe River Lodge, and Tau Game Resort all include family suites.
Book a room at Morukuru Family Madikwe, Motswiri Private Safari Lodge, Tau Game Lodge, The Bush House, or Tuningi Safari Lodge if you are traveling with children.
The only lodge that can be booked for exclusive use is Morukuru Family Madikwe, and the only one with conference facilities is Tau Game Lodge.
Frequently Asked Questions
How does a 3day Madikwe safari differ from other wildlife safaris in South Africa?
One of the most significant differences is the location of Madikwe Game Reserve, which is situated in the North-West Province and is easily accessible from Johannesburg. This makes it an ideal destination for those who have limited time to travel or want to combine their safari experience with a city break in Johannesburg. The reserve is home to several endangered species such as black rhino and offers a biodiversity that sets it apart from other wildlife safaris in South Africa.
What is included in a 3 day Madikwe safari?
A 3 Day Madikwe Safari typically includes accommodation at a safari lodge or camp, game drives with experienced guides, some meals and beverages, and transfers to and from the park.
Can a 3 Day Madikwe Safari be customized to include unique experiences to make the trip more memorable and unique? 
Yes, a 3 Day Madikwe Safari can be customized to include unique experiences that make the trip more memorable and unique. Many safari lodges in Madikwe Game Reserve offer a range of optional activities, such as bush dining or stargazing, that can be arranged upon request. Bush dining is a unique experience where guests can enjoy a meal in a secluded outdoor location, such as a dry riverbed or under the stars. Stargazing is also a popular activity, where guests can enjoy the unobstructed view of the African night sky while learning about the constellations from experienced guides. Other optional activities may include spa treatments, hot air balloon rides, or visits to local communities. By customizing a 3 Day Madikwe Safari, visitors can create a unique and personalized experience that suits their interests and preferences.