2 Day Blitz Kruger Safari
3 Day Kruger Park Classic Safari Tour
3 Day Kruger Park Tree House Safari
3 Day Kruger Tremisana Lodge Safari
4 Day Kruger Park Classic Safari Tour
4 Day Kruger Park Treehouse Safari
4 Day Kruger Tremisana Lodge Safari
5 Day Kruger Park Classic Safari Tour
5 Day Kruger Park Treehouse Safari
5 Day Kruger Tremisana Lodge Safari
6 Day Kruger Park Treehouse Safari
6 Day Kruger Tremisana Lodge Safari
Most Popular Family Safaris
Kruger Park Family Safaris
South Africans who grew up going to Kruger Park for their annual family safari holidays will tell you that those were some of their best childhood memories. There's something incredibly special about getting your kids into the wild, away from flatscreens and mobile devices, to soak up the bliss of nature.
Best places in the Kruger Park to take kids
Southern Kruger is the best section of the part to visit as a family with young children, or maybe bored teenagers. This southern region has the highest concentration of animals in Kruger Park and you should see wonderful wildlife sightings almost as soon as you drive through the entrance gate.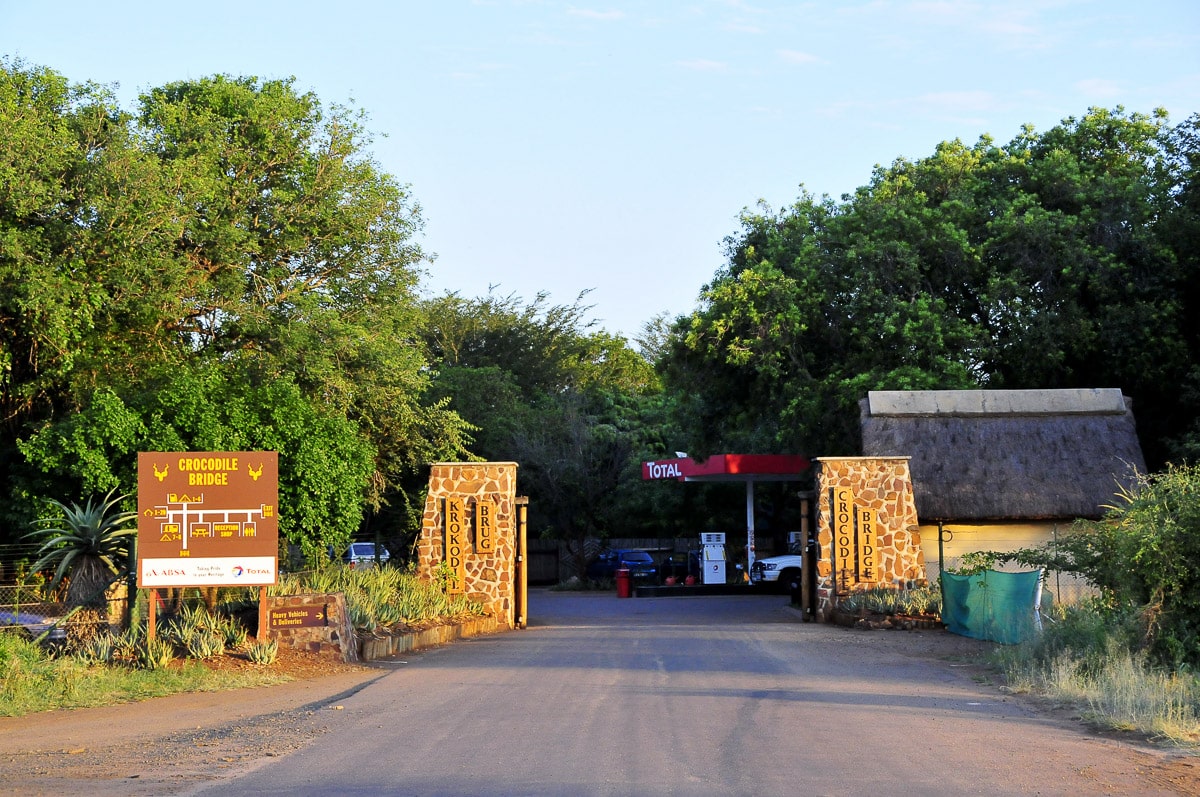 Crocodile Bridge Gate
The best entrance to choose to drive into Kruger Park is Crocodile Bridge Gate on its southernmost border, which takes you over the historic Crocodile Bridge into a game-rich section that's home to the Big 5 and an abundance of antelope, giraffe and zebra.
Park on the Crocodile Bridge and do a bit of game viewing. It's safe to get out of your car because you aren't quite in the bushveld yet but keep a look out for wild animals. You'll find at certain times of the year, like the dry winter season, animals and birds are plentiful along the river banks. You should also see crocodiles basking on the sand banks and hippos wallowing in the deeper pools.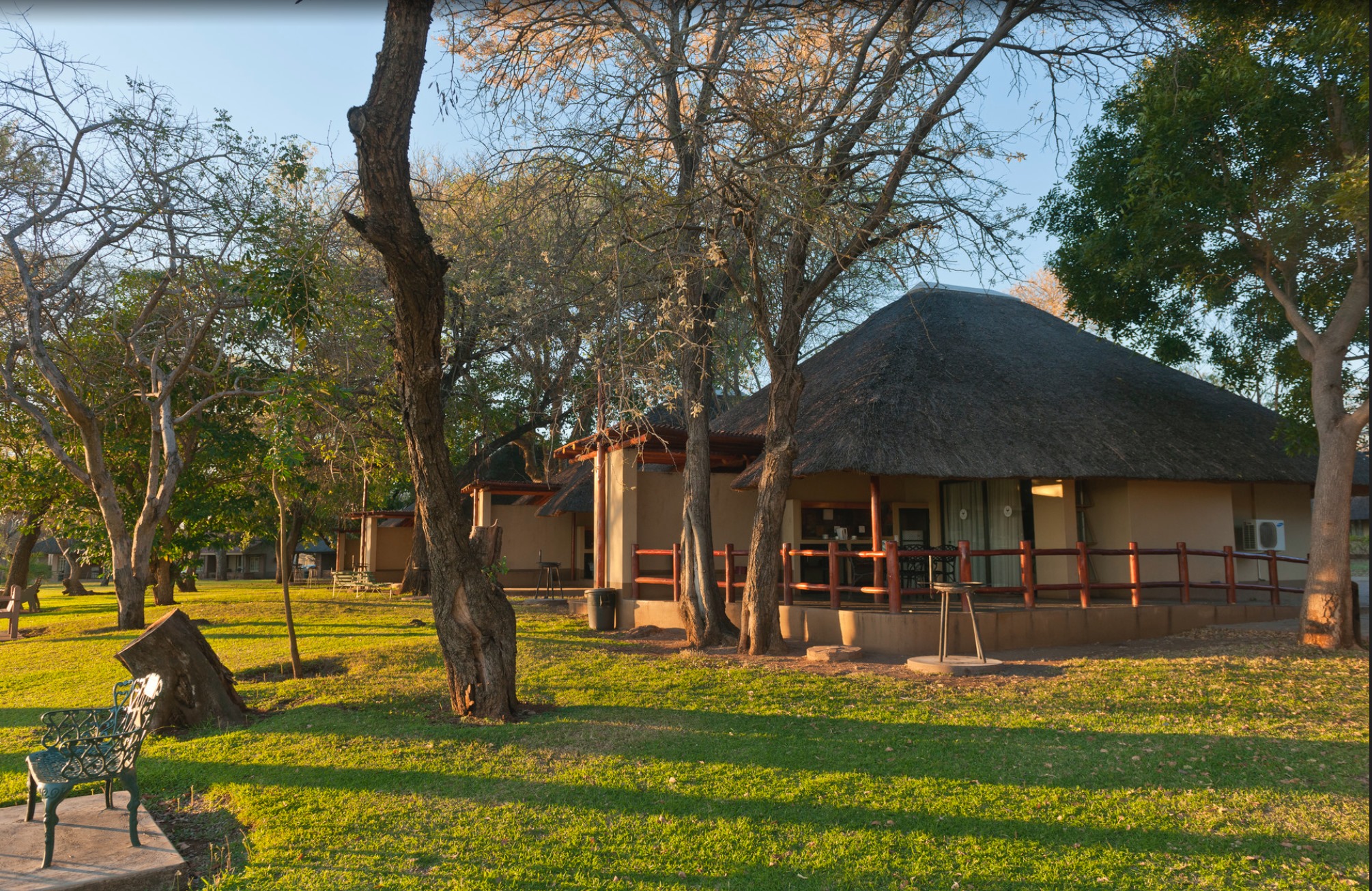 Lower Sabie Rest Camp
From Crocodile Bridge, it's a 1.5-hour slow drive to Lower Sabie which is a child-friendly rest camp and the perfect place to stay in Kruger Park with kids or stop off for drinks and lunch. The restaurant at Lower Sabie has a huge open-air deck with gorgeous views of Sabie River. Enjoy wonderful game viewing while enjoying a delicious meal.
This popular Kruger rest camp is located in one of the best game viewing areas so young kids in cars should never get bored while out game viewing. The rest camp is situated on a perennial river and there is constant traffic of animals coming down to drink. In between game drives, children have loads of space to play and a large swimming pools to cool down in on stinking hot summer days.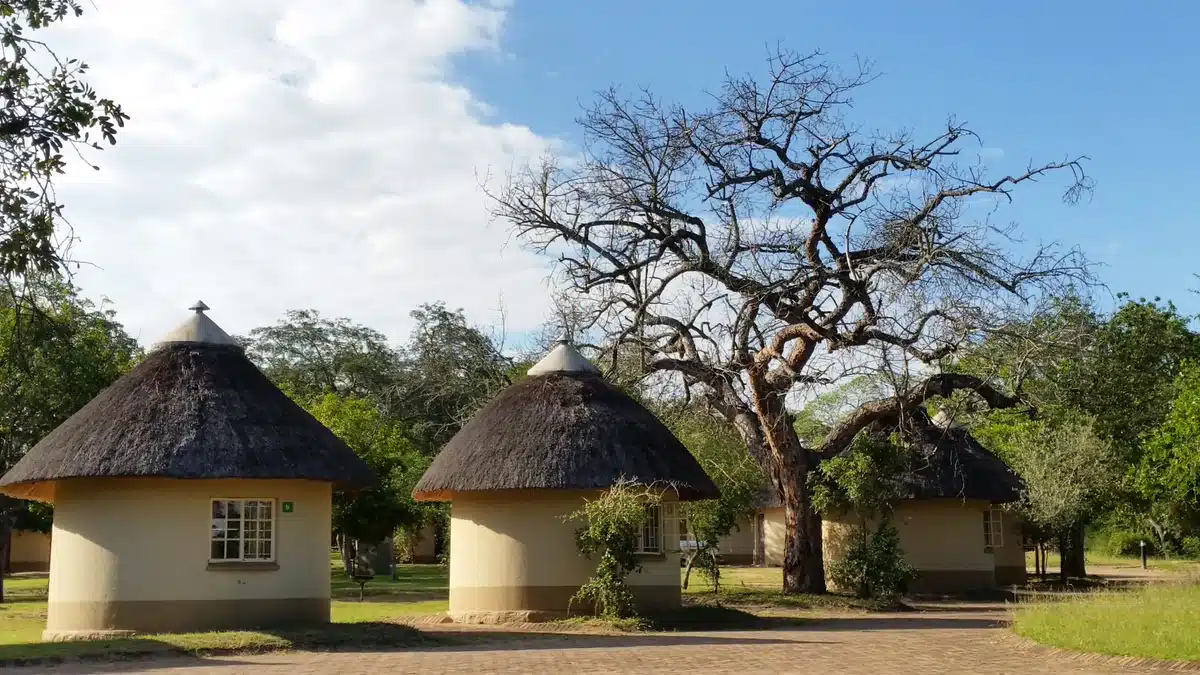 Pretoriuskop Rest Camp
If you enter Kruger Park from Numbi Gate, make your way to Pretoriuskop for a pitstop. The rest camp has one of the best swimming pools in the Lowveld, built up against a massive granite rock. There's a little paddle pool for small kids and lots of grass under shady trees to play on.
The Wimpy restaurant at Pretoriuskop serves budget-friendly meals and take-out which are ideal for young kids on the go. The rest camp has a small convenience store stocked with the basics for a self-catering holiday in Kruger Park as well as a fuel station.
Pretoriuskop Rest Camp is the oldest rest camp in Kruger Park and its history is intricately linked to the history of the Park. The Wolhuter hut at Pretoriuskop dates back to 1930 and is one of the few original huts built in Kruger Park. The historic camp takes its name from the nearby kopje (hill) where Voortrekker Willem Pretorius, a member of Carl Trichardt's 1848 expedition to Delagoa Bay, is buried.
There's a wide range of accommodation at Pretoriuskop but the most popular for a Kruger Park family safari are the family cottages. Each cottage has two bathrooms (one ensuite), a kitchen with a gas oven, combination fridge/freezer, patio with seating and outdoor barbeque facilities. Cooking utensils, crockery, cutlery, bedding and towels are provided.
Afsaal picnic site
Afsaal picnic site is a great place to stop to break a day of game viewing with children cooped up in a car. It's located on the H3 road between Skukuza Rest Camp and Malelane Gate. Pack your own picnic for the day or buy toasted sandwiches or light meals from the food kiosk. There's also a well-stocked convenience store at Afsaal where you can stock up on snacks and trips for the rest of the trip.
Afsaal means 'a place to break the journey in Afrikaans and it's definitely the perfect spot to spend some time out of the car, enjoying the scenery and wildlife and birds in the area. You'll see vervet monkeys, chacma baboons, dwarf mongoose, bushbuck and, if you're extremely lucky, a resident leopard and wild dog as well as elephants passing by.
You'll see the common Kruger birds like the yellow-billed and red-billed hornbill, Cape glossy and greater blue-eared starling and crested barbet. If he's still there, look in the trees for a resident African scops owl.
Afsaal picnic site has braai stands so enjoy a delicious boerie roll under the trees. If you're living overseas, that means enjoy a delicious sausage roll that's been cooked on the barbeque.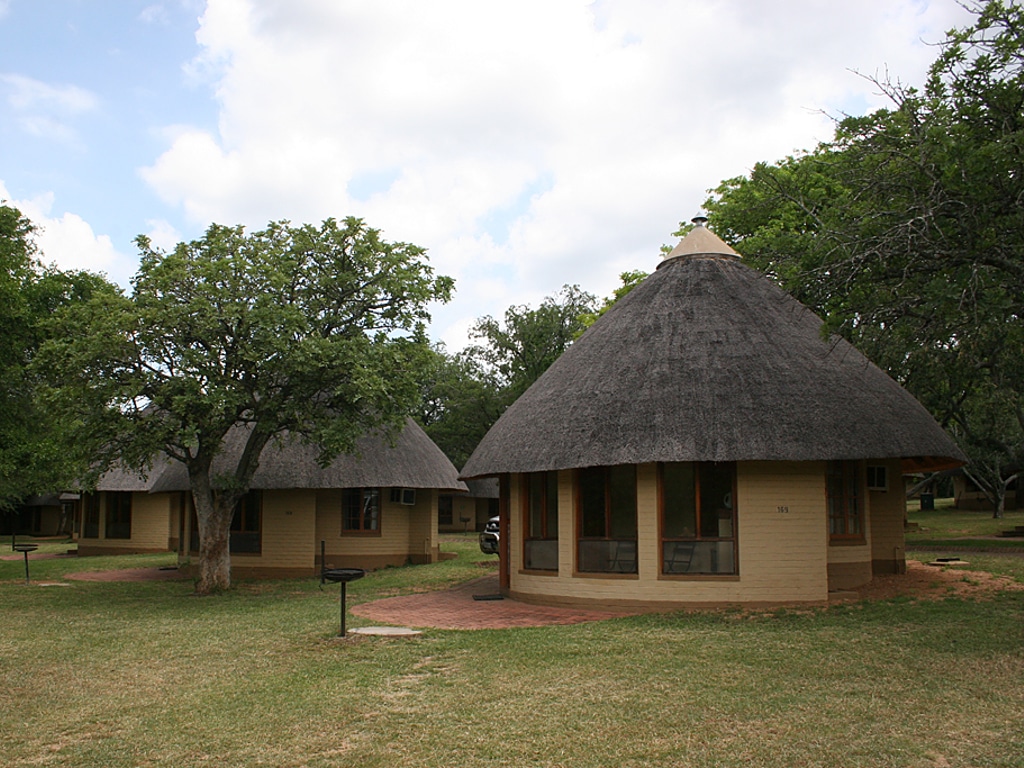 Skukuza Rest Camp
Skukuza Rest Camp is the largest rest camp in Kruger Park and generally known as the 'Capital of Kruger'. It has accommodation for up to 1 000 visitors and is geared for self-catering family safaris, with loads to do in the camp in between game drives.
Accommodation ranges from the traditional Kruger Park bungalows and rondavels to family-size cottages and guesthouses. The family cottage at Skukuza sleeps up to 8 people and has a comfy lounge and dining area, well-kitchen, patio with outdoor seating and barbeque facilities. The view over the Sabie River from the family cottage is gorgeous.
Most South African holidaymakers bring all their own provisions for a budget-friendly self-catering holiday in Kruger but you also have the option of eating out one of two eateries. The first is a family-friendly fast food eatery and deli and the other is a fancier sit-down restaurant.
Facilities at Skukuza Rest Camp include a huge fully-stocked shop with lots of toys, stationary and clothing for kids as well as a library, outdoor cinema, kid's playground and a lovely river walkway. Close by is a wonderful 9-hole golf course situated in the Skukuza staff village. Also in the village is a massive Olympic-size pool that Skukuza paying guest are welcome to use.
Kruger Park campsites
To keep costs down on a Kruger Park family safari, you can pitch a tent at one the main rest camp's well-maintained camping sites. The most popular rest camps in Kruger Park for camping with children are Pretoriuskop, Lower Sabie and Skukuza.
A new addition for Kruger Park campers is Tsendze, located approximately 7 kilometres south of Mopani Rest Camp in central Kruger. The rustic but comfortable campsite is laid out in a rough figure of eight under and around stands of ancient and beautiful leadwood, mopane and apple leaf trees.
Two prominent seasonal water coursesrun through the Tsendze area, namely the Tsendze River and Nshawu Creek. The river frontage is often teeming with game and large herds of elephant and buffalo come down to drink.
If you fancy a holiday at Lower Sabie and camping with young children doesn't appeal to you, you can book the camp's new semi-luxury, 2-sleeper tents. Each tent has a small bathroom and kitchenette. Three of the tents have been adapted to be wheelchair friendly.
Another popular option to give your children a fun camping experience without the hassle is the new tented camp at Pretoriuskop, situated against its perimeter fence. The safari-style tents at Pretoriuskop Rest Camp are equipped tosleep 2 people, have electricity and a small patio area with camp chairs. Guests use shared bathroom facilities.
Camping in Kruger Park – whether it's in a big family tent at one of the main campsites or something a bit more posh in the tented bush camps – is still one of the best ways for kids to experience an authentic safari holiday in South Africa.

Fun things for kids to do on a Kruger Park family safari
Obviously, early morning and late afternoon game drives are a highlight of a Kruger Park family safari holiday. Back at the main rest camps, there's always enough to keep children entertained; either hours spent in the swimming pool, playing in the open parkland areas or going for walks around the rest camp to spot small animals and birds.
Game viewing and bird watching isn't the only reason South Africans families with kids flock to their favourite national park. There are a number of outdoor activities on offer that can be done safely in the company of professional guides or trail managers.
Mountain bike trails in Kruger Park
If you're a family who loves cycling, there are a number of morning, afternoon and full-day trails you can do. These are organised out of Olifants Rest Camp which is located in central-east Kruger Park in an area renowned for its strong populations of elephant. In fact, 'olifants' is the Afrikaans word for elephant.
Guided walks in Kruger Park
Guided walks have become very popular in recent years and meet the need for a more authentic game viewing experience. You can join some of the easy-walking trails taken by SANParks guides in the mornings and evenings to explore the area surrounding the bigger rest camps, or you can make a whole trip of it and book an organised guided Kruger Park walking trail in remote, unspoilt wilderness areas.
These popular wilderness walking trails are guided by professional armed rangers and trackers. They're perfectly safe for families with older children as long as everyone follows their guide's instructions and take all the necessary precautions to stay out of harm's way.
The minimum age for children participating in Kruger Park wilderness walking trails is 16 years.
A few of the luxury lodges in Kruger Park run a 'children on safari' programme to keep children busy while their parents go on game drives. They take young children out for short bush walks in the company of a professional armed ranger. Fitzpatrick's at Jock is one such example of a private luxury lodge in Kruger that welcomes children of all ages.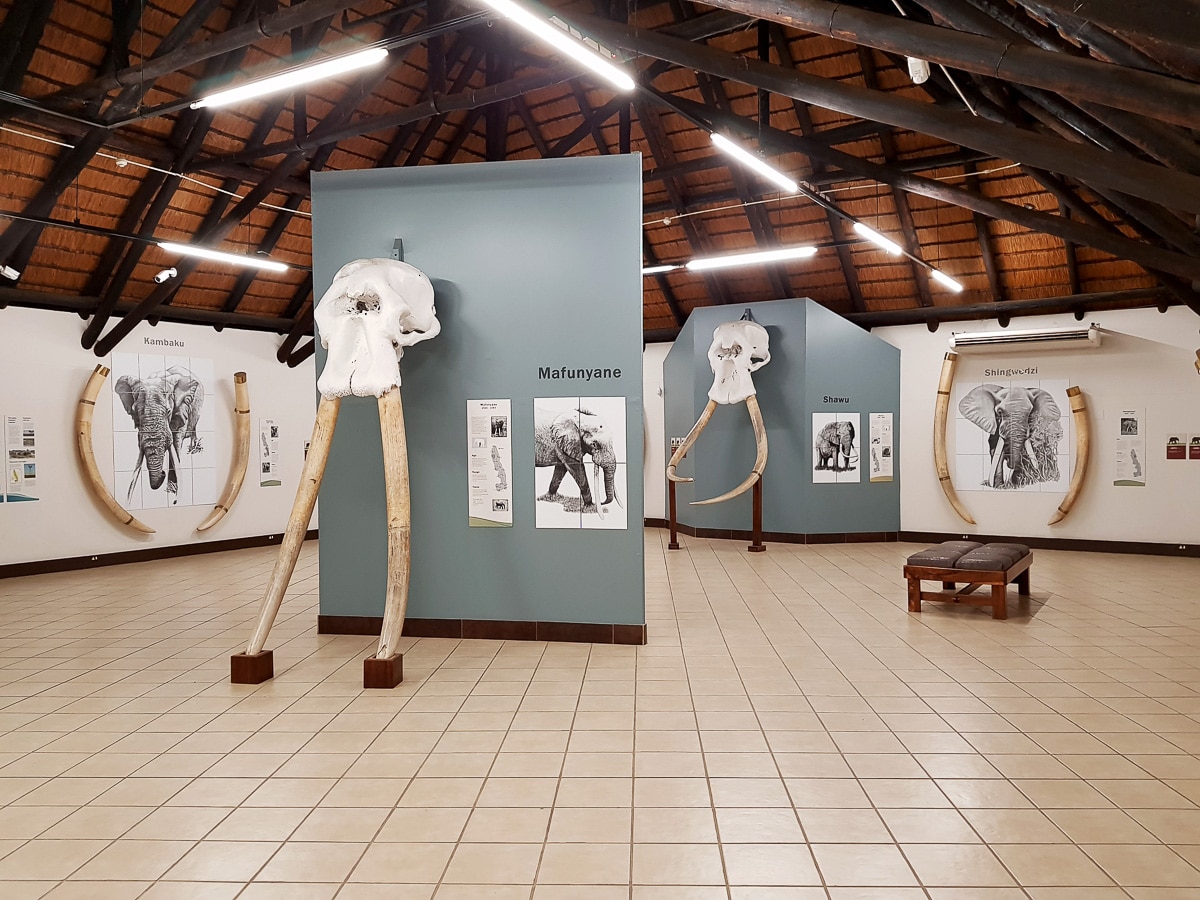 Letaba Elephant Hall
It's worth travelling up to Letaba Rest Camp in central Kruger on a family safari to visit the Letaba Elephant Hall. It's a fascinating museum that showcases six of Kruger Park's famous Magnificent Seven greatest tuskers. Your kids will also learn more about elephant evolution, biology and behaviour.
Letaba Elephant Hall welcomes school kids on education tours and offers a host of activities and games for children so they can learn more about these gentle giants while having some fun.
Stevenson-Hamilton Knowledge Resource Centre & Museum
This fascinating facility is located at the entrance into Skukuza Rest Camp. It's worth a visit, particularly with children. It's an opportunity to learn about the history of Kruger Park and the game wardens who pioneered its development and conservation.
The Stevenson-Hamilton museum holds many fascinating artefacts, books and valuable documents depicting much of the life of the first game warden in Kruger Park. One of the most renowned artefacts would be the knife which belonged to another famous ranger, Harry Wolhuter, who used the small knife to kill the lion that had him in the grip of his jaws.
Skukuza Golf Club
Kruger National Park is the only national park in Africa that has a golf course. It's not the most pristine golf course in South Africa but everyone loves it. Even if you don't play golf, the Skukuza Golf Club is a great place to visit for breakfast or lunch.
The golf club has a large flatscreen TV and the place packs out with locals and foreign guests watchingthe big rugby test matches or soccer matches. Children on safari with their sports-loving folks have lots of space to play around the club house.
Skukuza golf course and club facilities were built in 1972 as a recreational facility for camp staff but the course is now open to the public. It's a 9-hole course with no sand bunkers but you'll find lots of hazards along the way, like overhanging trees and wildlife on the green. The golf course in not fenced and its quite common to find antelope, giraffe, zebra and hippo grazing on the golf course.
Kids on Safari • Fitzpatrick's at Jock Safari Lodge
Jock Safari Lodge is a family-friendly lodge located within a 6 000-hectare private concession in Kruger Park. It's one of the few luxury lodges in Kruger that welcomes young children. Most of the luxury lodges in Kruger are unfenced, situated on a river and very exclusive which means kids staying there is not ideal.
Fitzpatrick's at Jock loves having young children come to stay on Kruger family safaris. Located close to Skukuza Rest Camp, Fitzpatrick's is a stand-alone house that sleeps up to 10 people and is hired on an exclusive-use basis.
From the moment they arrive, children are made to feel special and part of the Jock safari family. They get a gift pack with small gifts they can use during their safari holiday and promptly join the Jock's 'Kids on Safari Club'.
Fun and educational activities include:
junior ranger training, including spoor and plant identification
visit the Stevenson Hamilton Museum in Skukuza
children-only game drives (children 6 years and younger go out in a closed vehicle)
night walks within the camp
bush picnics
mini MasterChef
board games, play dough and entertainment in the play room
supervised swimming and outdoor entertainment

Best tips for going on a family safari with young kids
Set off early in the morning when the temperature is cool. Spend the middle of the day back at the camp. It's the hottest time of the day and not great for game viewing because animals generally shrink back into the thick bush in search of shade. Set off again in the mid-afternoon as temperatures start to cool off.
Stop at picnic sites along the route for at least 20 minutes to let them jump out, stretch their legs and burn off a bit of energy.
Stock up on healthy snacks and drinks so they don't go hyper on a sugar high. Snacks like popcorn and pretzels are better than sweets and chocolates if you have kids cooped up in a car on a game drive. Prepare a thermos flask and sandwiches for afternoon tea in the bush.
Stock up on educational activity books and videos on Kruger's Big 5 and other animals and birds so they can learn about the wild in the car. If you go awhile without any great game sightings, they can keep entertained with what they have in the car.
FAQs for a Kruger Park family safari
What is Kruger National Park?
Kruger National Park is the oldest and largest national park in South Africa. The original protected wildlife area was established in 1898 and Kruger Park as we know it today was officially declared a national park in 1926. It's a state-sponsored entity but the bulk of its revenue is self-funded through sustainable ecotourism.
The Big 5 (elephant, rhino, buffalo, lion and leopard) are the most famous animals found in the Kruger Park but they're just the tip of the iceberg because Kruger National Park has an abundance of wildlife that's just as exciting to see on a safari tour. In fact, Kruger Park has more species of large mammals than any other national park or game reserve in Africa.
Kruger National Park is world-renowned for its outstanding biodiversity and rich fauna and flora. It's also one of the most significant archaeological regions in southern Africa. There's also ample proof that ancient traders from Great Zimbabwe travelled through the region to the African east coast between the 11th and 15th centuries.
Is it safe to go on a Kruger Park family safari with young children?
This may be the first question you ask when considering taking your whole family to the Kruger Park and it's a good question, considering the Park is home to wild animals. Kruger Park family safaris are perfectly safe as long as everyone follows the rules and regulations governing Kruger Park safari tours and takes every precaution to keep out of harm's way.
General tips include:
follow your guide's instructions on game drives and guided bush walks
never leave your vehicle outside of the rest camp fence
don't hang arms and legs out of the car window or standup through the sunroof
keep an eye on small children all the time to watch they don't run off or try to touch wild animals
book accommodation in a fenced rest camp
take anti-malaria tablets
use sunscreen and insect repellent

Are young children allowed on game drives?
Young children love game drives and they're perfectly safe in a closed vehicle on a self-drive family safari holiday. Keep the daily game drives relatively short and plan pitstops at rest camps or picnic spots along the route to allow them time to stretch their legs and burn up a bit of energy.
As a general rule, children under 6 years are not permitted on the open safari vehicles for game drives. This is for their own safety and also for the sake of other guests if it's a group drive with a SANParks ranger.
The only exception is if you have hired an exclusive-use safari guesthouse or camp on one of the private concessions in the Park. The game ranger may allow younger children on the open safari vehicle at their discretion; under parental supervision and if the child is old enough to cope with an open vehicle safari drive.
Is Kruger Park located in a malaria area?
Kruger National Park is located in a malaria region in northern South Africa. The southern and central section of Kruger Park is considered to be a low-to-medium risk malaria area. The upper central, north and far north region is considered to be a medium-to-high risk malaria area.
Regardless, it's highly recommended that visitors take anti-malaria tablets and the usual precautions to prevent contracting the tropical disease. This includes using insect repellent, wearing long-sleeved shirts, long pants and socks and shoes after the sun goes down and sleeping under a mosquito net.
Malaria can be fatal if not diagnosed or treated early. Speak to your doctor or a travel clinic for more information on anti-malaria tablets.
Many families go on holiday to Kruger Park with very young children but if you are concerned, it's recommended that you delay taking a Kruger Park family safari holiday until your child is five years old. This has more to do with them being able to take anti-malaria tablets and their tolerance to treatment if required.
Likewise, a Kruger Park family safari is not recommended if you are pregnant. If you're desperate to get into the bush for a holiday, choose a game reserve like Pilanesberg that's close to Johannesburg or one of the popular Cape safari destinations. These game reserves are located in malaria-free regions.
Frequently Asked Questions
Which part of the Kruger National Park is best for family safaris?
The Southern part of the Kruger, bordered by the Sabie river in the North and the Crocodile river in the South is regarded by many as the best place for family safaris.
 
What activities are there for families in the Southern Kruger?
There are many activities for families in the Southern Kruger such as game drives, picnic spots where you can relax and enjoy a "braai" (barbecue), swimming, wilderness trails, a shop and a restaurant, a golf course, a visit to Lake Panic where the family can get out of the car and watch the animals and birds of the Park in an enclosed hide next to the lake.
Where is the best entrance to the Kruger Park?
Many visitors regard Crocodile Bridge gate as the best entrance into the Park. The gate is located on the Southernmost border and takes you across the historic Crocodile bridge into a game rich section with an abundance of giraffe, zebra and antelope. This area is also home to the Big5
Which rest camp in the Kruger is the best place to stay for families?
Lower Sabie is very popular among families on safari in the Kruger National Park. It offers lots of space for children to play and swimming pools to cool down. It also boasts constant traffic of animals coming down to drink at the river.
Can I expect to see animals up close and personal at Afsaal picnic spot in the Kruger?
Yes, at Afsaal picnic spot there are plenty of animals to see. Animals that frequent this area are chacma baboons, vervet monkeys, bushbuck, dwarf mongoose, wild dogs, elephants and some visitors have been pleasantly surprised by sightings of the resident leopard