4 Day Madikwe Hills Game Lodge Safari
Discover why Madikwe Game Reserve has become one of the most sought-after safari destinations for the discerning wildlife traveller.
4 Day Jaci's Safari Lodge
Jaci's Lodges is a well-known safari operation in Madikwe Game Reserve that's renowned for its treehouse glamping experience and vibrant off-the-wall décor.
4 Day Buffalo Ridge Safari Lodge
Buffalo Ridge Safari Lodge is an intimate bushveld retreat offering guests an exclusive Big 5 safari experience in a malaria-free region.
4 Day Madikwe Bush House Safari
Madikwe Bush House is a sprawling old farmhouse that has been lovingly transformed into a luxury safari lodge.
Overview and brief history
The Madikwe Game Reserve is strategically positioned between Johannesburg and Pretoria, and reaching the reserve from there takes about 4.5 hours. It is also close to Gaborone, the capital of Botswana.
Madikwe Game Reserve is the fifth largest game reserve in South Africa, bordering Botswana and close to the Kalahari Desert. This lesser-known park is actually one of the greatest protected locations in Africa, with 750 square kilometres of Big Five safari adventure.
The famous Mafikeng road traverses the reserve. Before the creation of the reserve, this path was already acknowledged as a significant historical link. It has been traversed by merchants, hunters, missionaries, and intrepid travellers. Many decades ago, Matabele King Mzilikazi passed through the Madikwe region on his way to expand his dominion.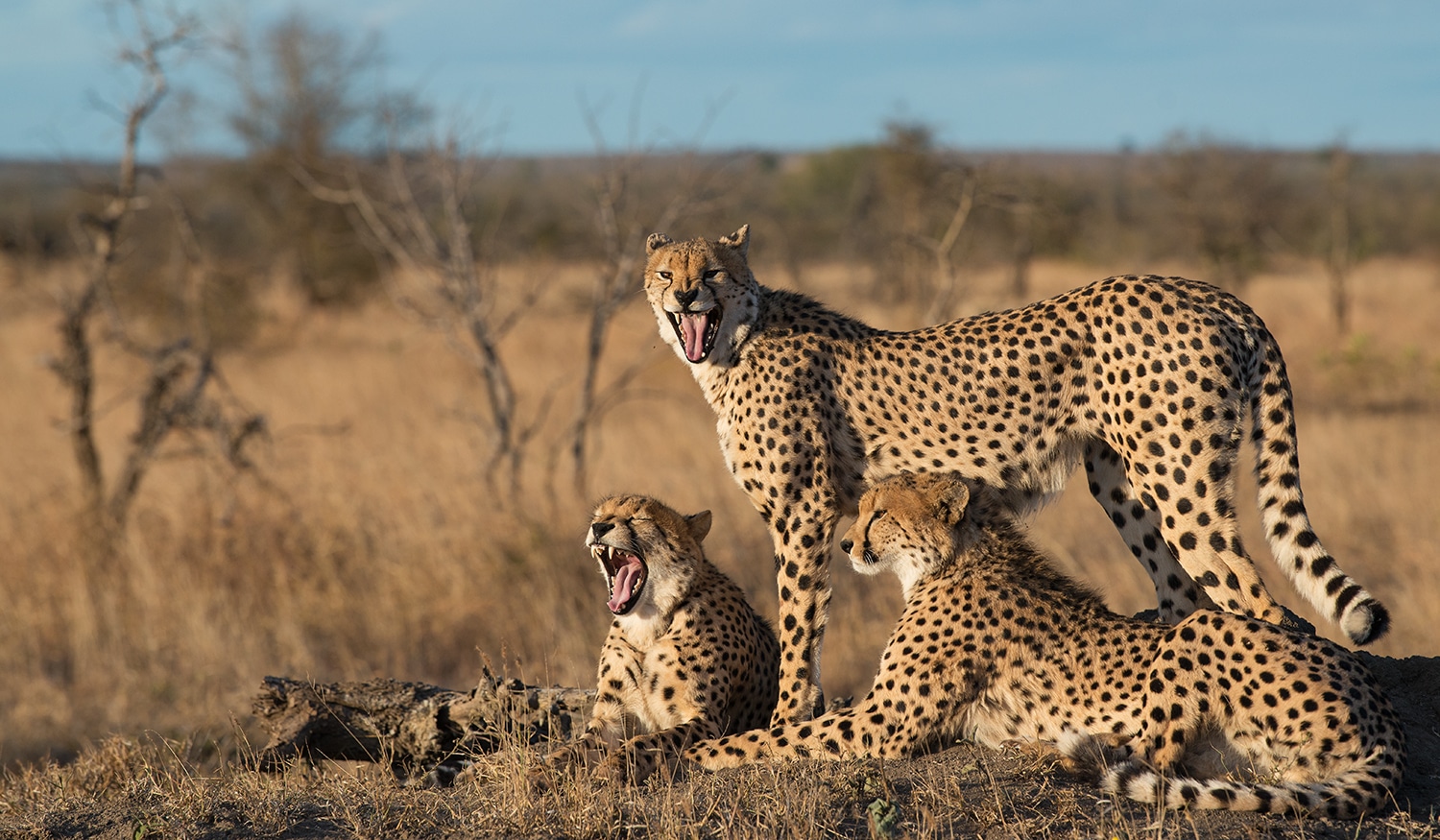 The land that is now the Madikwe Game Reserve was formerly used for agriculture, including cattle ranching and cereal and vegetable crop farming. Due to inefficient farming techniques and poor land management, the traditional agricultural culture was unsuccessful. There was originally planned of passing ownership of the farm to less fortunate and younger cattle producers when the vegetation deteriorated to the point where it could no longer be utilised.
The reserve was made public in 1991, and on October 31, it was transferred to the Board's estate. Due to a feasibility study, it was determined that wildlife-based tourism was the best choice for regenerating the remote and economically depressed area. It is one of the few game reserves in the world that was founded because it was the most environmentally friendly and suitable use of the land.
Madikwe Game Reserve is a wonderful site for a safari because of its diverse landscapes and plenty of wildlife. Despite the environmental destruction caused by hunting and farming in the Madikwe region, the project of turning it into a protected game area, has facilitated the comeback of species that had been extinct for more than a century. Thus, there are numerous species, ranging from insects to mammals, and around 340 species of birds. To keep the larger animals within the reserve, a 150-kilometer-long electrified fence was erected around its perimeter.
Madikwe Game Reserve is home to 66 mammal species, including the "Big 5" (elephant, rhinoceros, buffalo, lion, and leopard). Considering all of this, as well as the presence of giraffes, hippos, cheetahs, wild dogs, and hyenas, you can rest assured that your safari experience will be one to remember
The wide grasslands of Madikwe Game Reserve are interlaced with trees and pastures. The southern Dwarsberg Mountains constitute the western boundary of the reserve, and the rocky Rant van Tweedepoort divides it in half. The complex soils and rocks of Madikwe, which support the region's wildlife and flora, are the result of millions of years of erosion on the underlying geological formations. The reserve includes hilly regions, a plateau, rocky hills, a year-round river, seasonal wetlands, bushveld, savannah, and a vast array of sand and clay settings.
The temperature, which varies widely from one area of the reserve to the next, is another element that affects the type of plant present at each place inside Madikwe. Madikwe's vegetation is patchy as a result of the numerous veld management techniques employed by the farms that once occupied the region that is now the Madikwe Game Reserve.
There is a wide variety of lodging options available for individuals, couples, and families traveling with children, some of which are extravagant or even ultra-luxurious. It is an excellent choice for the beginning or ending of a trip to South Africa, as well as for the beginning or ending of a tour that takes in both South Africa and Botswana.
Malaria is not present in this reserve, which is a significant benefit in comparison to other well-known game reserves located in the provinces of Limpopo and Mpumalanga. This is another reason why it is worthwhile to visit this reserve.
Madikwe Game Reserve is a particularly prestigious destination for a safari due to the fact that day visitors are not allowed to enter the area. As a direct consequence of this, the only vehicles permitted into the park during game drive hours are those that are registered to one of the park's lodges.
Madikwe Game Reserve is your destination for the ultimate safari journey, offering everything from bushveld luxury to African splendour, as well as family vacations and romantic hideaways.
Combine excellent wildlife viewing with incredible lodging alternatives. Madikwe Game Reserve is comprised of four- and five-star hotels and camps that are extremely pleasant.
The reserve offers a variety of lodges and camps suitable to the type of experience you choose during your stay. Among them are family safari resorts, conferences, romantic vacations, safari and spa treatments, and unique eco experiences.
The following accommodation is available at Madikwe Game Reserve:
Eco Bush camp
Mosetlha Bush camp and Eco Lodge

Luxury Lodges
Buffalo Ridge Safari Lodge
Impodimo Game Lodge
Jaci's Lodges
Tau Game Lodge
Thakakdu River Camp
The Bush House
Madikwe River Lodge
Rhulani Safari Lodge
Rock Fig Lodge
Motswiri Private Safari Lodge
Tuningi safari Lodge

Ultra Luxury Lodges
Etali Safari Lodge
Jamala Madikwe
Morukuru Family Madikwe
Madikwe Hills Private Game Lodge
Madikwe Safari Lodge
Mateya Safari Lodge
Molori Safari Lodge

Jaci's Lodges, Madikwe Hills Private Game Lodge, Madikwe Safari Lodge, Morukuru Family Madikwe, Impodimo Game Lodge, Madikwe River Lodge, and Tau Game Resort all include family suites.
Book a room at Morukuru Family Madikwe, Motswiri Private Safari Lodge, Tau Game Lodge, The Bush House, or Tuningi Safari Lodge if you are traveling with children.
The only lodge that can be booked for exclusive use is Morukuru Family Madikwe, and the only one with conference facilities is Tau Game Lodge.
Frequently Asked Questions
What type of accommodation can I expect from a 4 day Madikwe Safari?
Madikwe Game Reserve has a wide range of accommodation options, including bush camps and eco lodges, ultra-luxury lodges, and private safari lodges.
What is usually included in a 4 day Madikwe safari?
A 4 day Madikwe Safari usually includes accommodation, meals, game drives daily for wildlife viewing, possible refreshments, guided bushwalks, and the opportunity for relaxation and optional activity at the lodge. Some lodges offer cultural interactions or community interaction to enhance your safari.
Are children allowed on a 4 day Madikwe safari?
Children are allowed to go on a Madikwe Safari. Madikwe Game Reserve has many lodges that cater to families, offering family-friendly activities and accommodations. Lodges may have different policies or age restrictions. Some lodges set minimum age restrictions for children to participate in activities or game drives, while others offer child-minding or special programs.