We are Satsa accredited
What is SATSA?
SATSA is the acronym for the Southern African Tourism Services Association. This association is designed for members who work in the inbound tourism industry as a means to not only regulate the industry and its members but to also ensure that each member delivers nothing but the best quality services, and thereby uphold the high level of service delivery that is to be expected in such a service driven industry.
SATSA is responsible for:
Ensuring that credibility, value and authority are given precedent in the work done by the members.
Providing peace of mind for those doing business with tourism companies that are SATSA accredited.
Handling the membership registration process and ensuring that members have agreed to and signed a Code of Conduct.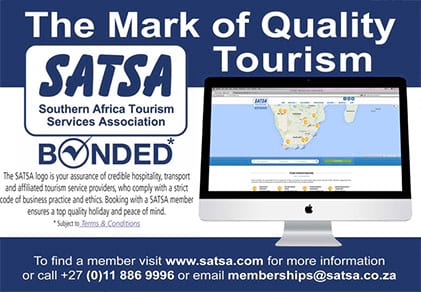 SATSA is also there to assist buyers in making an informed decision before they decide to buy a product or service from those under the SATSA membership banner. But the benefits are not limited to the customers but also to those who are members. SATSA lobbies on behalf of all of the members and they also often undertake the duty of representing members at conferences.
Why should you only use SATSA members?
Whenever you choose to purchase a service from a SATSA member, you are instantly guaranteed to be investing in a service that you can trust. Because of the Code of Conduct and the SATSA regulations, you will receive the very best quality. This stamp of approval on a tour company's documentation ensures that you are touring with a company that has all of its documentation in place. So think of SATSA as your insurance when you go on a safari tour.