Why You Choose MoAfrika Tours
Unique Tours
We carefully select and evaluate all our sights and activities to offer tours that are highly customized to your leisure wishes.
Nca* Prices
We understand the importance of a good price/quality balance. All our tours are attractively priced, so you have the benefit of getting mo Afrika for your money. *Local lingo for: Fine, beautiful. Pronounced with a downward click of the tongue.
Fresh approach
We are a young and enthusiastic team, constantly looking for new developments to keep our tours fresh and original.
Big Smile
A person uses 62 muscles to frown and only 26 muscles to smile. Your holiday or leisure experience should be relaxing and fun, therefore our always well-mooded crew will do their best to make you smile.
Flexible
Holidays are about freedom to do whatever you feel like doing. Our easy going tour guides are always open for alterations in the original tour itinerary, even during the tour!
Think Green
Using the planet in an ecological responsible way is the green part of our vision. With small adjustments we can make a big difference and, together with you, leave a minimal polluting footprint.
About MoAfrika Tours
MoAfrika combines more than 15 years of experience in South African tourism. We are a young and ambitious team that stand confident and rock solid behind our values, belief and services. Our carefully selected staff is highly trained in their work field. As a team we work with great commitment and a never ending smile on our face. As a company we grab every challenge and opportunity with both hands and don't let go till we get it right.
Four words that capture the soul of MoAfrika; fresh, integrity, ambitious, adventurous.
Our vision
We want to hand every person travelling through southern Africa the ideal facilities, means and services to experience the rich African culture and environment in the fullest way possible. By listening attentively to the wishes of the traveler, and shaping those wishes into a unique and unforgettable leisure experience, we strive to become the biggest online tour operator in Southern Africa.
Our mission
We strive to create a personal and unique holiday experience for travelers visiting Southern Africa in a fresh, innovative, reliable and green way.
Would you like to create your own customized tour? With MoAfrika Tours you can!
Individuals
Don't hesitate to requests sights or activities that seem impossible. South Africa is a land with endless opportunities, we are an organization with endless resources and your request might not seem that impossible! Our sales team will combine your ideas and thoughts into a package that is customized to your wishes.
Corporate
Is your company ready for some teambuilding, a general moral boost or just a good time? Organize a corporate trip with one of our sales agents! Together with us you can create a perfect package that will surprise and motivate your employees! Three options to create your custom tour:
Add the tours that you like to 'my trip', fill in your contact details and any special requests and enquire.
Advise us about your wishes by filling in our general contact form.
Contact one of our sales agents by dialing +27 82 506 9641
We are Satsa accredited
What is SATSA?
SATSA is the acronym for the Southern African Tourism Services Association. This association is designed for members who work in the inbound tourism industry as a means to not only regulate the industry and its members but to also ensure that each member delivers nothing but the best quality services, and thereby uphold the high level of service delivery that is to be expected in such a service driven industry.
SATSA is responsible for:
Ensuring that credibility, value and authority are given precedent in the work done by the members.
Providing peace of mind for those doing business with tourism companies that are SATSA accredited.
Handling the membership registration process and ensuring that members have agreed to and signed a Code of Conduct.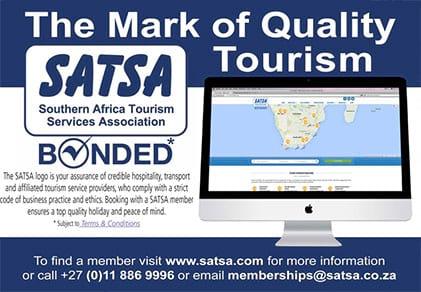 SATSA is also there to assist buyers in making an informed decision before they decide to buy a product or service from those under the SATSA membership banner. But the benefits are not limited to the customers but also to those who are members. SATSA lobbies on behalf of all of the members and they also often undertake the duty of representing members at conferences.
Why should you only use SATSA members?
Whenever you choose to purchase a service from a SATSA member, you are instantly guaranteed to be investing in a service that you can trust. Because of the Code of Conduct and the SATSA regulations, you will receive the very best quality. This stamp of approval on a tour company's documentation ensures that you are touring with a company that has all of its documentation in place. So think of SATSA as your insurance when you go on a safari tour.